Even though masks are not required to be worn everywhere by vaccinated people, masks are still highly recommended in large groups like stadiums and concerts.  Vaccine apprehension is still prevalent in red states.  Not knowing whether or not those around you have been vaccinated is still there.  You can show your support for Texas A&M by wearing these items.
Hat is high quality custom made from San Saba Cap.


Hats and masks are available for $25 each.  Precedes benefits our scholarship fund.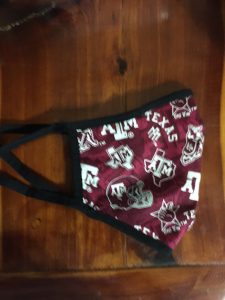 NCAA Texas A&M Aggies, 100% Cotton, Double Layer, Washable & Reusable, Non-Medical Face Mask
Double layer 100% cotton fabric

One size fits most

Nose wire to help form tightly to your face

Adjustable ear straps

Machine wash