The Kerr County A&M Club is 501 (c) 3 Corporation Status as of January 1, 2017.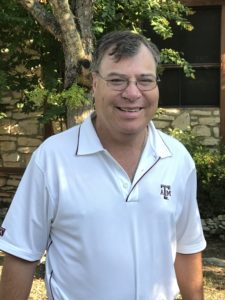 Chairman: John M. Penaloza '89 
Address: 103 Live Oak Lane Kerrville,Texas 78028
e-mail jpenaloza@windstream.net
Ph. (830) 257 – 3706 Cell (830) 377-0034
Club e-mail: kerrcoaggieclub@hotmail.com

Chairman John Penaloza '89 
Kerr County Club Chairman:   John M. Penaloza '89  (Webmaster – Football Get-togethers –                                                                        Music Get-togethers – Muster – Scholarships – Sporting Clays Shoot)
John M. Penaloza '89, was born and raised in Waco, Texas. I earned a BA in Business Finance in August 1989. Moved to Houston and sought employment in the oil industry. Was employed by Triton Tool and Supply hired as a Materials and Services Expediter and Inventory Control Supervisor assisting in setting the company up on Macola inventory management program.  I was later promoted to Operations Analyst, a cost accountant for offshore drilling projects an then Senior Turnkey Analyst assisting in the consolidation of this Turnkey Drilling Engineering Corporation on SAP.
I moved to Kerrville in 2000 after some health issues but knew that my goal was to give high school seniors the same opportunities that I received with my degree from Texas A&M.
In 2005 took on the position of Chairman of the Kerr County A&M Club with 300 members and created our website on WordPress and organizing events Golf Tournaments and Football Watch Parties. I also enjoy helping with our Sporting Clays Shoot and Muster.  I have assisted in giving out scholarships to high school seniors for the past 16 years. In 2020 we gave out (5) $2,000 scholarships, the same amount as we we able to give in 2019.  In 2018 the amount was  (6) $1,000 scholarships.  The main goals I see for the Kerr County A&M Club are maintaining the level of scholarships and increasing our membership from 750 to 800 members.
Vice Chairman:  Jared Hunt '12 (Muster – Football Get-togethers – Scholarships – Sporting Clay                                                                             Shoot))
                                                                             e-mail hunt2651@aggienetwork.com
                                                                             Cell (830) 370 – 9268
Club Treasurer:  Brian Cowen '97 (Muster – Football Get-togethers – Scholarships – Sporting Clays Shoot)
                                                                             e–mail cobrian45@gmail.com
                                                                              Cell (830) 370 – 6544
Muster Chairperson:  Nora Clark '79 (Muster – Scholarships)
                                                                                  e-mail Nora.Clark57@gmail.com
                                                                              Cell (830) 496 – 0127 
Sporting Clays Chairman:  Cuatro Patterson '89 (Sporting Clays Shoot)
                                                                                  e-mail cuatropatterson@yahoo.com
                                                                              Ph. (830) 895-3579  Cell (830) 739 – 3797
Mail Contributions to:
Kerr County A&M Club
Attn: Treasurer Brian Cowen '97
121 Elm Way
Kerrville, Texas 78028