The Kerr County A&M Club is 501 (c) 3 Corporation Status as of January 1, 2017.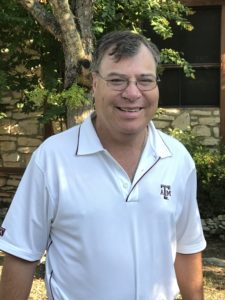 Chairman: John M. Penaloza '89 
Address: 103 Live Oak Lane Kerrville,Texas 78028
e-mail jpenaloza@windstream.net
Ph. (830) 257 – 3706 Cell (830) 377-0034
Club e-mail: kerrcoaggieclub@hotmail.com

Chairman John Penaloza '89 
Kerr County Club Chairman:   John M. Penaloza '89  (Webmaster – Football Get-togethers –                                                                        Music Get-togethers – Muster – Scholarships – Sporting Clays Shoot)
John M. Penaloza '89, was born and raised in Waco, Texas. I earned a BA in Business Finance in August 1989. Moved to Houston and sought employment in the oil industry. Was employed by Triton Tool and Supply hired as a Materials and Services Expediter and Inventory Control Supervisor was later the Senior Turnkey Analyst at this Turnkey Engineering Corporation.
In 2005 took on the position of Chairman of the Kerr County A&M Club with 300 members and created our website and organizing events like Football Watch Parties. I also help with our Sporting Clays Shoot and giving out scholarships to high school seniors for the past 14 years. In 2019 we gave out (5) $2,000 scholarships double the amount of 2018. The main goals I see for the Kerr County A&M Club are maintaining the level of scholarships and increasing our membership from 750 to 800 members.
Vice Chairman:  Jared Hunt '12 (Muster – Football Get-togethers – Scholarships – Sporting Clays Shoot))
                                                                             e-mail hunt2651@aggienetwork.com
                                                                             Cell (830) 370 – 9268
Club Treasurer:  Brian Cowen '97 (Muster – Football Get-togethers – Scholarships – Sporting Clays Shoot)
                                                                             e–mail cobrian45@gmail.com
                                                                              Cell (830) 370 – 6544
Muster Chairperson:  Nora Clark '79 (Muster – Scholarships)
                                                                                  e-mail Nora.Clark57@gmail.com
                                                                              Cell (830) 496 – 0127 
Sporting Clays Chairman:  Cuatro Patterson '89 (Sporting Clays Shoot)
                                                                                  e-mail cuatropatterson@yahoo.com
                                                                              Ph. (830) 895-3579  Cell (830) 739 – 3797
Mail Contributions to:
Kerr County A&M Club
Attn: Treasurer Brian Cowen '97
121 Elm Way
Kerrville, Texas 78028