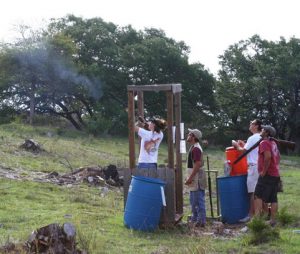 10 stand Course
5 man Teams

Is an annual event held at the Hill Country Shooting Sports Center at https://www.shootingandhunting.net/ in Kerrville. This location is a professional shooting range that has hosted American Olympic trials.  The Kerr County A&M Club hopes you choose to participate in our summer fundraising event.
The shoot is a statewide event typically held the last Saturday of August and is the Kerr County A&M Club's primary annual Scholarship fundraiser.  It raises significant funds to award scholarships to Kerr County High School students who have been accepted to Texas A&M in College Station.  The shoot includes a BB-Q lunch and drinks.  We have had as many as 62 participants.
Cost $75 each or  $375 per 5 man Team
Entry includes: 10 stands, 100 sporting clay targets per person, Bar-B-Q lunch and refreshments.
A "100-STRAIGHT" SPONSOR @ $500 (INCLUDES 5 SHOOTERS AND STATION SPONSOR ADVERTISING SIGN).
A STATION SPONSOR @ $200 (INCLUDES STATION SPONSOR ADVERTISING SIGN)
Please provide your own ammunition (5 boxes). Eye and ear protection is mandatory.  Ear plugs and 12 gauge ammo available for purchase on-site.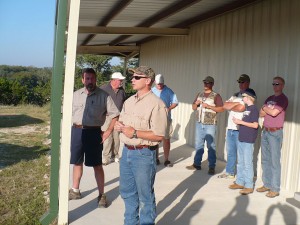 This event Chairman Cuatro Patterson '89 DVM