The Boat review "Absolutely great food, great company! What more can you ask for? Prices were superb for the seafood selection.
---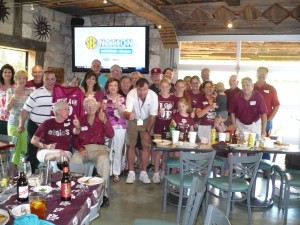 Club Chairman John Penaloza '89 and 35 fellow Ags at Café at the Ridge
The Kerr County A&M Club has held "Football Get-togethers" at local locations such as  Café at the Ridge 13439 S. Ranch Road 783 (Harper Road). The café has been very generous with their 70″ smart TV and surround sound system. they serve beer, wine and a full country style cooking menu.  They serve breakfast till 11:00am.
---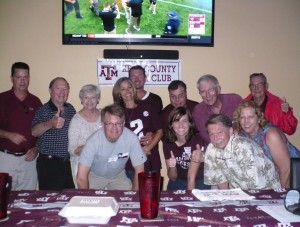 VIP Room with 12 Ags at Brewdawgs in Kerrville
Other location Brew Dawgz is a trendy Sports bar located at 2262 Bandera Highway.  It features a full Dinner menu and 21 draft beers.  There are 9 Big Screen HDTV's, a VIP Room that holds 20, available for Reservation, and also features a 50 seat patio with 2 Big Screens on separa