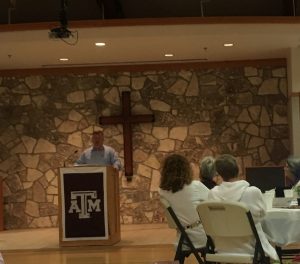 Mark Passwaters '01 Muster Speaker 2019
The 2020 Muster marks our 41st annual Kerr County Muster has been cancelled due to the coronavirus situation.  W.  Our Speaker was scheduled to be Ryan Bugai '17. He is past Coordinator of Former Student Programs for the Association of Former Students and has participated in our Sporting Clays Shoot.  Unfortunately it did not work out, but we are looking forward to 2021 if we can work things out. 
Speaker Ryan Bugai '17 Biography
Muster usually includes a Social at 6:00pm, BBQ Dinner at 6:30pm and Program following.  Muster Chair Nora Clark '79, Jared Hunt '12 and myself will be handling the rescheduling once the difficult time is over.  We are hoping to still have a Raffle of Texas A&M souvenirs.  We have over 50 items available.
Bills Bar-B-Q Restaurant and Catering provides brisket, sausage and all the trimmings.
Cost $25 each