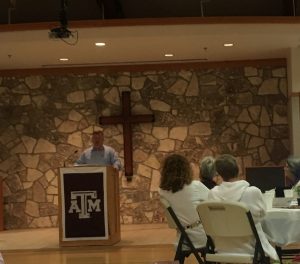 Speaker Mark Passwaters '01
The 2019 Muster marks our 40th annual Kerr County Muster, it was held Monday April 22nd  at Tucker Hall 320 St. Peter Kerrville, TX at 6:00pm.  It is usually held April 21st but due to Easter Sunday we are having it Monday April 22nd.  Our Speaker is Mark Passwaters '01. He covers Football Recruiting at A&M for www.Rivals.com.
We had 118 attend.
Muster includes a Social at 6:00pm, BBQ Dinner at 6:30pm and Program following..
Bills Bar-B-Q Restaurant and Catering provides brisket, sausage and all the trimmings.
Cost $25 each