2019 A&M FOOTBALL TICKETS
You can buy or sell your tickets in 3 WAYS…
---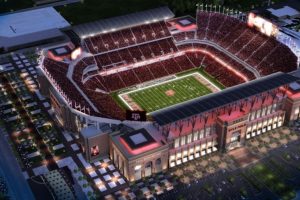 ---
2.  Season 2019 Tickets Available For Sale from LOCAL Kerr County Aggies

:
Jimmy Wright called me a couple of days ago to let me know how he's doing after suffering two strokes. I can tell you that his mind is sharp and his voice is clear and strong. Jimmy has lost some vision and needs aid to walk- taking therapy.
Jimmy would like to sell his

season tickets

. Some tickets are in the "ZONE" and others are on the West side. I would get anyone that is interested in touch with Jimmy, or those that don't know, Jimmy was a winning and colorful quarterback for the Aggies during the Bear Bryant era of the 1950's. I know that we all wish Jimmy good health and a fast recovery.
Mike Lam '68
254-865-3266
3. Game by Game Tickets"
Game:  ______       Date: _______
Section: ____   Row: __ Seats: _____
If you are interested in

buying

tickets:
We can send out emails to our members and let them know you are interested.
If you would like to

sell

tickets Contact Chairman John Penaloza '89 at jenaloza@windstream.net and we will do our best to help out.
Prices are negotiated between buyer and seller.  We can even send out e-mail notices to all our registered e-mail list. Currently 524 members.
________________________________________________