Scholarship eligible schools are: Tivy High, Ingram Tom Moore High, Our Lady of the Hills Regional Catholic High and Center Point High.  Home schooled in Kerr County also eligible.
The Scholarship Application deadline is March 20, 2020.  And it can be accessed through our website:
Club e-mail: kerrcoaggieclub@hotmail.com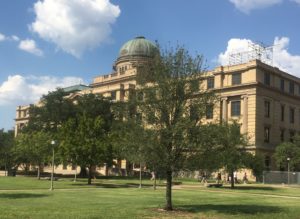 Academic Building
Scholarship Application 2019
Six 2019 scholarship recipients:
Rachel Carlson
Kaitlyn Secor
Gerard Real
John Christian Harris
Victoria Kitzman  
A complete application consists of:
One hard copy of  your official high school transcript with SAT and/or ACT scores.
The Application form with all 5 sections completed, including narrative.
A completed and signed Teacher Recommendation Form.